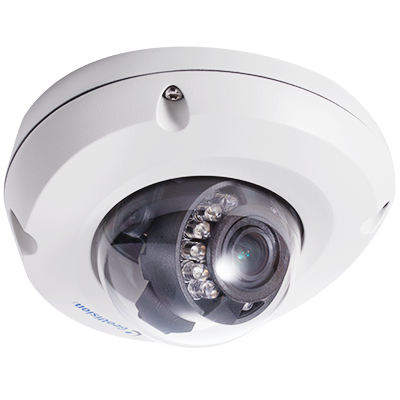 GV-EDR4700
4MP H.265 Super Low Lux WDR Pro IR Mini Fixed Rugged IP Dome
The Target Mini Fixed Rugged Dome is an outdoor, fixed, mini-sized network camera equipped with an automatic IR-cut filter and IR LEDs for day and night surveillance. The camera adheres to IK10 and IP67 standards. It is adjustable in 2 axis (pan and tilt) and can be connected through PoE. The camera can support H.265 video codec to achieve better compression ratio while maintaining high quality pictures at reduced network bandwidths. GV-EDR4700 is capable of not only providing a color live view in near darkness but also under contrasting light intensities with its super low lux CMOS image sensor and WDR Pro.
Models
| | | |
| --- | --- | --- |
| Model | GV-EDR4700-0F | GV-EDR4700-2F |
| Iris | Fixed | Fixed |
| Focal Length (mm) | 2.8 mm | 3.8 mm |
| Horizontal FOV | 96° | 72° |
| Maximum Aperture | F/2.0 | F/1.8 |
| Image Format | 1/2.7" | 1/2.7" |
1/3" progressive scan super low lux CMOS
Triple streams from H.265, H.264 and MJPEG
Up to 20 fps at 2592 x 1520, 25 fps at 2560 x 1440, 30 fps at 2048 x 1520
Day and Night function (with removable IR-cut filter)
Vandal resistance (IK10 for metal casing)
Ingress protection (IP67)
2-axis mechanism (pan / tilt)
DC 12V / PoE (IEEE 802.3af)
Wide Dynamic Range Pro (WDR Pro)
Intelligent IR
3D noise reduction
Smart streaming
Defog
Motion detection
Tampering alarm
Text overlay
Privacy mask
IP address filtering
Supports iPhone, iPad, Android & 3GPP
31 languages on Web interface
ONVIF (Profile S, T) conformant
---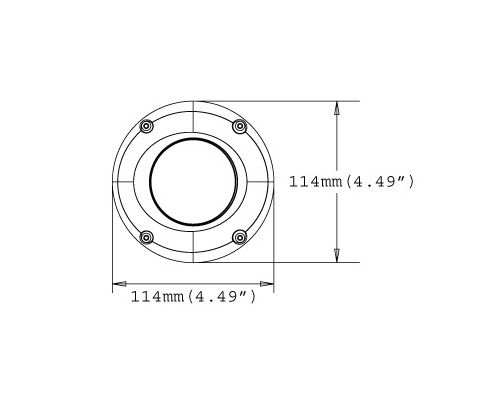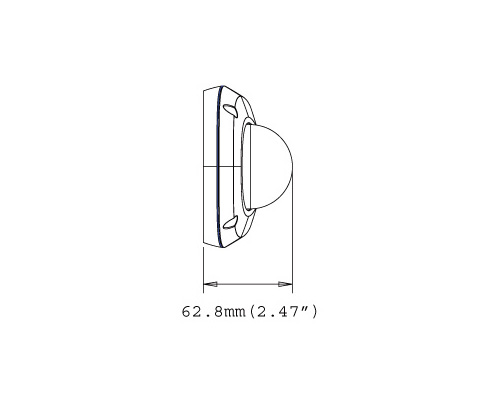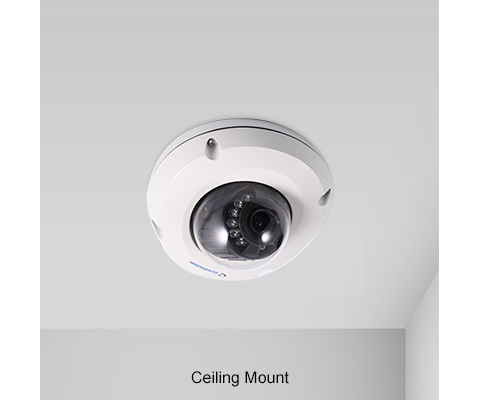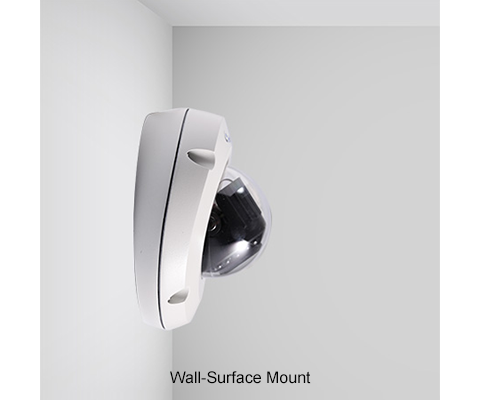 ---
Model No
Name
Details
GV-Mount910
Power Box Mount Bracket
Dimensions: 112 x 98 x 7.5 mm (4.4 x 3.9 x 0.3")
Weight: 105 g (0.23 lb)
GV-Mount913
Power Box Mount Bracket
Dimensions: Ø 146 x 7.5 mm (Ø 5.7 x 0.3")
Weight: 180 g (0.4 lb)
GV-Mount918
Wall Mount Bracket for MFD/MDR/EFD/EDR
Dimensions: Ø 145 x 117 x 96 mm (Ø 5.71 x4.60 x 3.78")
Weight: 350 g (0.77 lb)
GV-PA191 PoE Adapter
Power over Ethernet (PoE) Adapter
The GV-PA191 is a Power over Ethernet (PoE) adapter designed to provide power to the IP device through a single Ethernet cable.
Plastic PG21 Conduit Connector
The plastic PG21 conduit connector is used for running the wires of the camera through a 1/2" conduit pipe.
GV-POE Switch
The GV-POE Switch is designed to provide power along with network connection for IP devices.
The GV-POE Switch is available in various models with different numbers and types of ports.
Power Adapter
Contact our sales representatives for the countries and areas supported.
H.265 Mini Fixed Rugged Dome
Screw x 2
Screw Anchor x 2
Focus Adjustment Ring
Installation Sticker
Conduit Converter
RJ-45 Connector
Waterproof rubber sets (for RJ-45 Cat.5 and 12V DC / for RJ-45 Cat.6)
Torx Wrench
Silica Gel Bag x 2
Adhesive Tape for Silica Gel Bag x 2
Concave hexagon Wrench
Ruler
Screw for Conduit Converter x 2
Download Guide
Warranty Card
---
GV-EDR - Installation - Hard-Ceiling Mount
GV-EDR - Installation - Power Box Mount
---
H.265 Mini Fixed Rugged Dome
Screw x 2
Screw Anchor x 2
Focus Adjustment Ring
Installation Sticker
Conduit Converter
RJ-45 Connector
Waterproof rubber sets (for RJ-45 Cat.5 and 12V DC / for RJ-45 Cat.6)
Torx Wrench
Silica Gel Bag x 2
Adhesive Tape for Silica Gel Bag x 2
Concave hexagon Wrench
Ruler
Screw for Conduit Converter x 2
Download Guide
Warranty Card
---
---