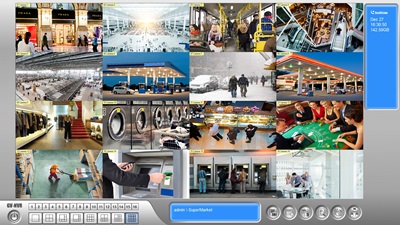 GV-NVR
The GV-NVR (Network Video Recorder) records video and audio data over TCP/IP networks. With up to 32 channels of pure IP surveillance, the GV-NVR offers the same functions as GV-Series Surveillance System. With additional license, GV-NVR supports up to 32 channels of third-party IP devices. From monitoring features to video analytics as well as integration with LPR, POS/ATM and Access Control systems, it stands as one of the most comprehensive IP surveillance software in the security market.

Combined with GeoVision IP camera, the GV-NVR takes advantage of a better image quality thanks to the progressive scan technology and allows advanced video features such as Picture-In-Picture and Picture-And-Picture. Compatibility with a wide range of third party IP cameras through ONVIF and PSIA makes the GV-NVR the ultimate solution for pure IP surveillance environments.
Support for up to 32 channels
Support for ONVIF cameras, PSIA and RTSP protocols
Support for H.265 GPU and CPU decoding to achieve a higher total frame rate
General video analytics: Intrusion Alarm, Crowd Detection, Scene Change Detection, Privacy Mask, Unattended and Missing Object Detection
Retail video analytics: People Counting
Fisheye dewarping
Intelligent recording and playback
Support for central monitoring systems: GV-Center V2, GV-Vital Sign Monitor, GV-Dispatch Server, GV-Control Center, GV-GIS Geographic Information System
E-Map; IO Device Control; PTZ Auto Tracking
Remote monitoring via Web browsers, iOS and Android mobile devices
Integration solutions: Point-Of-Sale, EAS Integration, Access Control, License Plate Recognition
Support for Microsoft SQL and Access data types
Support for 31 languages
---
Note :
Specifications are subject to change without notice.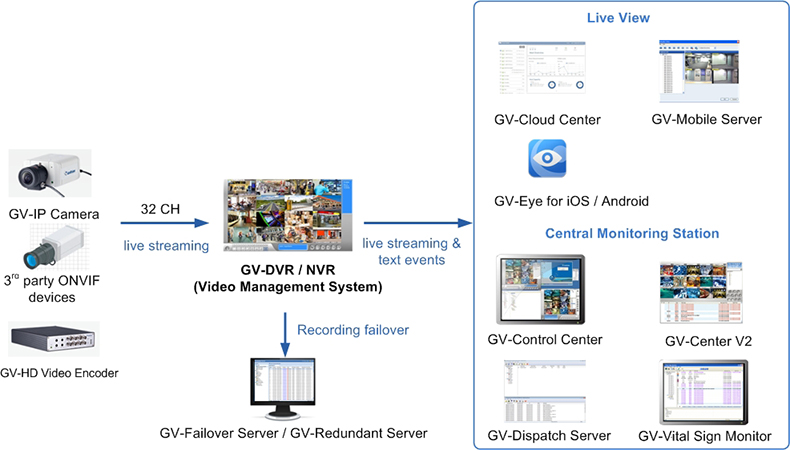 ---
Note :
Specifications are subject to change without notice.
Model No
Name
Details
GV-IR Remote Control
GV-IR Remote Control allows you to control the GeoVision surveillance system at the maximum operation distance of 7 m (22.97 ft).
GV-COM V3
GV-COM V3 adds 1 RS-485 port to your computer through a USB connector.
GV-IO Box Series
GV-IO Box series provides 4 / 8 / 16 inputs and relay outputs, and supports both DC and AC output voltages, with optional support for Ethernet module and 4E additionally supporting PoE connection.
GV-Joystick V2
GV-Joystick V2 allows you to easily control PTZ cameras. It can be either plugged into the GV-DVR/NVR for independent use or connected to GV-Keyboard.
GV-Keyboard V3
GV-Keyboard V3 is used to program and operate GV-DVR/NVR and PTZ cameras. Through RS-485 configuration, it can control up to 36 GV-DVR/NVR. In addition, you can connect PTZ cameras directly to the keyboard for PTZ control.
GV-Data Capture
GV‐Data Capture allows the integration of POS systems and the GeoVision surveillance system through cable or network connection.
---
Note :
Specifications are subject to change without notice.
---
Note :
Specifications are subject to change without notice.
| Model No. | Ordering Part No. | Description | SKU No. |
| --- | --- | --- | --- |
| GV-NR001 | 210-NR001-000 | GV-NVR for 3rd party IP cameras-1 CH | 55-NR001-000 |
| GV-NR002 | 210-NR002-000 | GV-NVR for 3rd party IP cameras-2 CH | 55-NR002-000 |
| GV-NR004 | 210-NR004-000 | GV-NVR for 3rd party IP cameras-4 CH | 55-NR004-000 |
| GV-NR006 | 210-NR006-000 | GV-NVR for 3rd party IP cameras-6 CH | 55-NR006-000 |
| GV-NR008 | 210-NR008-000 | GV-NVR for 3rd party IP cameras-8 CH | 55-NR008-000 |
| GV-NR010 | 210-NR010-000 | GV-NVR for 3rd party IP cameras-10 CH | 55-NR010-000 |
| GV-NR012 | 210-NR012-000 | GV-NVR for 3rd party IP cameras-12 CH | 55-NR012-000 |
| GV-NR016 | 210-NR016-000 | GV-NVR for 3rd party IP cameras-16 CH | 55-NR016-000 |
| GV-NR018 | 210-NR018-000 | GV-NVR for 3rd party IP cameras-18 CH | 55-NR018-000 |
| GV-NR020 | 210-NR020-000 | GV-NVR for 3rd party IP cameras-20 CH | 55-NR020-000 |
| GV-NR022 | 210-NR022-000 | GV-NVR for 3rd party IP cameras-22 CH | 55-NR022-000 |
| GV-NR024 | 210-NR024-000 | GV-NVR for 3rd party IP cameras-24 CH | 55-NR024-000 |
| GV-NR026 | 210-NR026-000 | GV-NVR for 3rd party IP cameras-26 CH | 55-NR026-000 |
| GV-NR028 | 210-NR028-000 | GV-NVR for 3rd party IP cameras-28 CH | 55-NR028-000 |
| GV-NR030 | 210-NR030-000 | GV-NVR for 3rd party IP cameras-30 CH | 55-NR030-000 |
| GV-NR032 | 210-NR032-000 | GV-NVR for 3rd party IP cameras-32 CH | 55-NR032-000 |
---