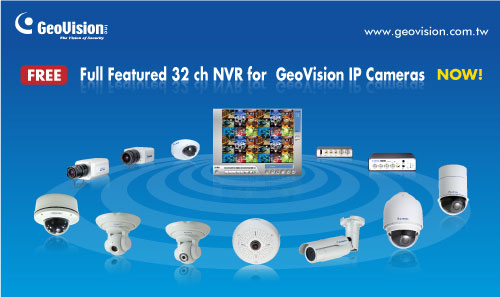 GeoVision is about to release its GV-NVR/GV-DVR V8.4 in October. GeoVision supplies a free bundled 32-channel full featured GV-NVR V8.4 with its IP cameras and video servers. GV-NVR V8.4 is compliant to ONVIF and PSIA standards.
GV-NVR V8.4 provides a Smart Dual Streaming technology to solve the problem of live viewing for large number of multi-megapixel IP cameras installation. The technology greatly utilizes the benefits of different resolution of dual streaming from triple CODEC of GeoVision megapixel IP cameras.
This version supports GeoVision 360-degree Fisheye IP camera de-wrapping technology for multiple views of live viewing, remote monitoring and playback, enabling viewing from any view angle and zoom level by different users without blind spot.
GeoVision is releasing over 20 models of IP cameras of different types and resolutions from 1.3M, 1.3M Low Lux, 2M, 3M, 5M to 10M. With 1.3M Low Lux series, it provides extreme night vision for low light environment monitoring. Some of the models are built in with IR LED. GeoVision is also releasing 360-degree Fisheye IP cameras with 1.3M and 4M resolution.
For more information, please go to GeoVision website or contact your GeoVision sales representatives.