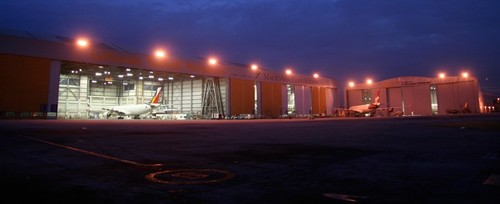 Pasay City, Philippines
Lufthansa Technik Philippines is a large aircraft maintenance facility of Lufthansa, the German-based commercial aircraft enterprise. The installation at this site is a challenge to every aspect of a security system, including centralised management, bandwidth allocation, and network control. It is a classic site, as are many of the new installations today, in that a CCTV system operates on a hybrid platform, and coexists with existing analogue cameras and other applications within the same network.
The Geovision hybrid DVR system with its multiple compression and streaming capabilities addresses all these challenges in a simple package. The system hosts 128 newly purchased cameras in addition to its existing analogue cameras, with megapixel cameras at critical points. Owing to the size and complexity of an LTP network, each module of the CCTV system must be able to function on its own even if disconnected from the network. As the budget comes in two phases, the system must be modular and scalable for future camera expansion, to incorporate possibly an additional 300-cameras.
"The Geovision system as designed and installed by ASIA Inc. is a powerful CCTV surveillance system that helps us protect our valuable personnel and assets. Its performance and scalability is a solution that is both cost effective and future proof". – A. Abalos, Security Manager, Lufthansa Technik Philippines.
Besides meeting the requirements, Geovision offers centralised management through its CMS package. With the Vital Sign Monitor (VSM) application, both camera and DVR status are displayed, giving support personnel a detailed log for support analysis. With compressed video streams to the central monitoring station (CMS) application, the system greatly reduces load to the network while still providing real-time data.
The products used in this installation are the Geovision digital surveillance system (hybrid platform), 1.3M IP cameras, VSM, and CMS. It is a powerful package suitable for similar installation sites.
For more information, please go to GeoVision website or contact your GeoVision sales representatives.