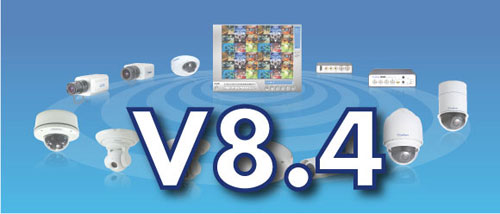 GeoVision has released its new version V8.4 GV-NVR/ GV-DVR. In V8.4, GeoVision supplies its IP cameras and video servers with a free bundled 32-channel full featured GV-NVR. Being ONVIF and PSIA compliant, the V8.4 GV-NVR now supports more than 600 of IP camera models by different manufacturers.
The V8.4 provides a Smart Dual Streaming technology to solve the problem with live viewing for large number of multi-megapixel IP cameras at installation. Video Compacting function is used to keep video key frame by utilizing only small hard drive size for the oldest video files. Schedule Center is used for video compacting, video merging, and fast backup. A new video analytics function of Face Count with duration information is useful in retail market. This version has also added the support to Android mobile phone.
This version also supports GeoVision's newly released IP cameras including Fisheye camera, D/N Box camera, IR Pan Tilt camera, and D/N PTZ camera. The GV-FE110/ GV-FE111 360-degree Fisheye IP camera has de-wrapping technology capable of multiple live view, remote monitoring and playback. It is able to provide different view angles and zooming levels without blind spot for different users' login at the same time.
GV-BX120D is a 1.3 Megapixel Low Lux D/N Box IP camera that provides extreme night vision in low light environment. GV-BX220D is a 2 Megapixel D/N Box IP camera that provides both 16:9 and 4:3 video resolutions in real time.
GV-BX320D is a 3 Megapixel D/N Box IP camera that provides fine details even for wide area monitoring.
GV-PT110D is a 1.3 Megapixel IP camera that provides Pan and Tilt control; while GV-PTZ010D is an IP camera that provides Pan, Tilt and 10 times of Zoom control in D1 resolution.
GeoVision is releasing over 30 models of IP cameras of different types and resolutions from 1.3M, 1.3M Low Lux, 2M, 3M, 5M to 10M.
For more information, please go to GeoVision website or contact your GeoVision sales representatives.